Rack and Ruined is a small business creating one-of-a-kind art and home decor from wood, antlers, and repurposing. And before you tell you more, I have to admit to more than a little bias towards his work, as the owner, Jon Hepworth, happens to be my Dad. Formerly a missionary to Ireland for 13 years, he now works at a saw mill in northern-mid Michigan which gives him access to some really beautiful woods. Due to the uniqueness of the materials, every piece is a one-of-a-kind. At Rack and Ruined, you can find everything from lamps and clocks to baskets and buttons. Whether you're a hunter, or just love that rustic look, Rack and Ruined is perfect for you!
Rack and Ruined really does have a huge range of product types from larger pieces like lamps, shelves, baskets, canes, and clocks to smaller items like keychains, buttons, ice cream scoops, pizza cutters, and even dog chews! Know what you want, but haven't been able to find it? Custom orders are certainly a possibility.
Interested in seeing more by Rack and Ruined? Drop by his Facebook page! Be sure to check back later, as new ideas are being explored all the time!
Also, if you happen to be in Michigan around Thanksgiving, Rack and Ruined will be participating in the Chesaning Music Booster Arts & Crafts held in the Chesaning middle-school and high-school the Friday and Saturday after Thanksgiving. (He'll be in the main room of the middle-school.) Hope you consider dropping by!
The artist behind Moss Re-Creations is Julie Moss. Julie Moss is a quilter and embroidery artist that specializes in keepsake art. She creates custom quilts, pillows, and bags out of upcycled old t-shirts. Julie would make these memory t-shirt quilts for her children and their friends as a way to remember all the sports events that they had been involved with. Now, Moss Re-Creations, is known as a great way to preserve your special memories. Her t-shirt recreations are made to preserve the memories/celebrate of all sorts of areas of life: from surviving cancer to remembering all manner of interests/special events (sports, music, etc.) or anything else that the customer wishes to memorialize.
Moss Re-Creations is happy to preserve your special memories by turning them into a custom memory keepsake! Here's where you can learn more about Julie and her art:
Fun, funky, and oh so whimsical, drop by the Etsy store of Dramatique Designs and take a look at her upcycled clothing and accessories!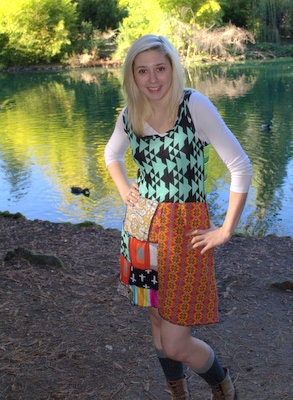 Dramatique Designs is based in Portland, Oregon and owned/operated by artist Erin Bass. What started it all was when she was given a sewing machine for Christmas one year, it was love at first stitch! She opened her Etsy store in May of 2010.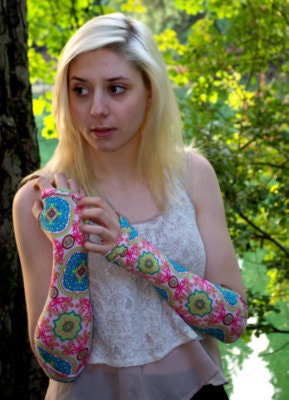 Erin's store offers many different kinds of products. She sells fingerless gloves (like the one shown above; some of which are made from upcycled sweaters), headbands, dresses, tote bags, and more!
If you are looking for one-of-a-kind clothing or accessories, Dramatique Designs is definitely a store you should check out!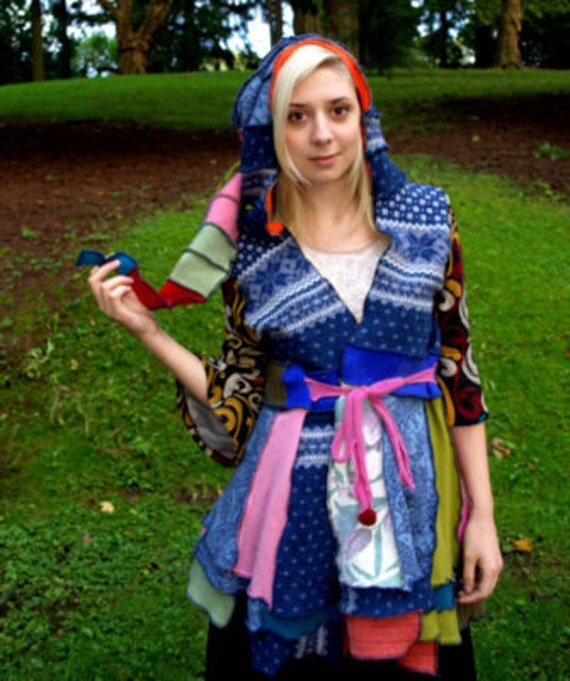 Here are her links!