Posts Tagged 'jewelery'
The artist behind Instinctively Indie is Ann Jepsen. Ann Jepsen creates unique upcycled jewelry from all sorts of bits-and-bobs. Her jewelry features lots of upcycled buttons, pieces of vinyl records, soda cans, marbles, melted crayons, and so many other interesting objects.
Instinctively Indie jewelry is cute, colourful, and full of vintage whimsy you just can't help but love it! When not creating beautiful jewelry, Ann Jepsen can be found at home chasing around her home in Sioux City, Iowa with her family.
If you would like to see more of Ann Jepsen's beautiful creations, here's where you can find them!
Uniqlets is owned by jewelry artist Lisa Rosenberg. As her businesses name "Uniqlets" would suggest, Lisa specializes in making one-of-a-kind and unusual pieces. She especially enjoys bringing new life to vintage materials such as old jewelry, vintage buttons, or, really, any unusual object that strikes her interest and could create a bold statement piece. Uniqlets jewelry is fun, colourful, and very different from other jewelers work. Every piece is certainly a statement piece of jewelry and sure to get noticed!
If you would like to see more of Lisa's work, here's where you can find it!
Website & blog
Store (primary)
Store (secondary)
Facebook
Pinterest
Twitter
Hi, everyone! I know it's been a long time since I last made a blog post, but I'm going to try and start posting again now that my summer art shows have come to an end. To get things restarted again, I thought I'd share some of my excitement from this summer: being invited to consign my jewelry to the Artistica art gallery in Dexter, Michigan.
Artistica is a small art gallery run by four ladies who are artists in their own right. I met one of the managers while exhibiting at the Midland Summer Art Fair where she was also exhibiting her work. The next month, I got a phone call from her asking if I would be interested in consigning some of my work to their gallery. And, of course, I was!! I then spent the next two weeks making a whole pile of new pieces specifically for the gallery so that I wouldn't diminish my show inventory.
Here are a few of the pieces I brought down to Artistica!
Sterling silver and Dragondust Trizanov bracelet featuring Chrome Diopside beads. Trizanov is one of my own designs.
Sterling silver and Dragondust Alternating Half-Trizanov bracelet with Iolite. Alternating Half-Trizanov is one of my own designs.
Sterling and copper Vipera Aspis bracelet. Vipera Aspis is own of my own weaves.
I'm not sure why, but I've been making a lot of pieces lately in lime green and hot pink. This one is Celtic Flower bracelet in sterling silver and that lime green/hot pink enameled copper colour-combo I've been favouring lately. It sold at Artistica the day after I set up my display!
Sterling silver, burgundy, silver-gray, and blue-black enameled copper bracelet.
Copper and blue and orange enameled copper Celtic Flower bracelet. I really like how this one turned out. It reminds me of forget-me-nots.
Copper and lime green enameled copper Alternating Half-Romanov bracelet with Pink Topaz. Alternating Half-Romanov is one of my own designs.
Copper Crotalus bracelet. Crotalus is one of my own weaves.
Sterling silver and Dragondust Trizanov earrings with Chrome Diopside, Pink Chalcedony, and Pink Sapphire.
Sterling silver and Dragondust Alternating Half-Trizanov earrings with Iolite and Tanzanite.
Copper Dragonscale earrings.
Copper and lime green enameled copper Romanov earrings with Pink Topaz and Pink Chalcedony.
If you would like to see more of the jewelry that I brought down to Artistica, you can find it here.
So last year one of the new things I decided to experiment with was Prismacolor on copper. However, the bracelet project I'd planned did not go quite as expected. The original idea was a single bracelet with three Prismacolor on copper panels with chainmaille making up the rest of the bracelet's body. However, after getting two of the panels to solder with minimal issue, the third one apparently decided it didn't like me. I could get the the connector rings to solder just fine on one side of the panel, but on the otherside (no matter what I did) they simply refused to solder. Most likely, there was a miniscule gap somewhere between the sheet and the rings, but nothing I did (even using binding wire) could get it to solder. So, what started out as one bracelet, due to the stubbornness of silver soldering, ended up turning into two Prismacolor on copper bracelets plus a few other non-Prismacolor pieces not shown here.
This is the first of the two bracelets that resulted from the change in project plans. While the centerpiece of the bracelet is the eye-poping Prismacolor on copper, the rest of the bracelet is made from sterling silver. The body of the bracelet is the classic chainmaille weave: European 4in1. Before being coloured, the copper sheet was hand embossed by hammering copper swirls onto it to give the sheet more detail. The bracelet measures at just over 7 inches long and is 1 inch wide at the wisest point.
This is my personal favorite of the two bracelets. I just love the colours and while the granulation was a pain, I love the result and would endure all the frustration all over again! Like the other bracelet, this is a sterling silver bracelet with hand embossed Prismacolor on copper focal-point. This one, however, uses a micromaille Half-Persian 3in1 weave with granulation accents. It measure at 7.75 inches long and 1 inch wide at the widest point.
While it was frustrating that my original plan did not work out, I actually like the results of the two bracelets much better!
Here are my links if you'd like to see more:
Recently on Facebook, I saw a meme that I absolutely loved and I certainly agree with. It said: "Life is too short to wear mass produced jewelry. Choose handmade." There are so many reasons to go with handmade jewelry over made-in-China, mass produced jewelry. Besides the obvious quality differences, handmade jewelry has so much more personality and an originality you won't find in mass production. And the designs of Lisa Burek Jewelry (this week's featured wearable artist) is no exception.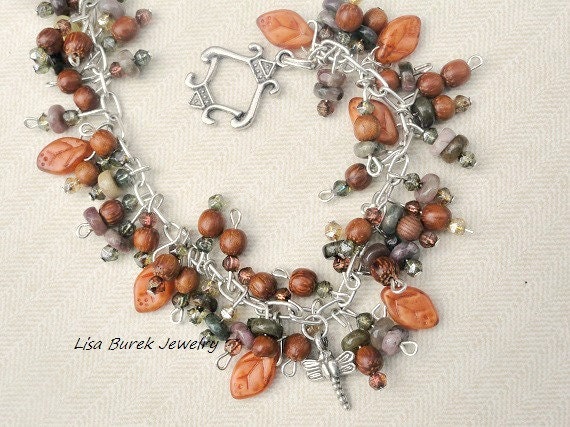 Lisa Burek Jewelry is based in Oak Ridge, New Jersey. Jewelry designer Lisa Burek, has been creating gorgeous has had a love for artistic creation pretty much all of her life, but only caught the jewelry making bug in more recent years; in 2010 she and opened her shop on Etsy.
Lisa Burek Jewelry shows a beautiful mixture of colour and movement. And to make things even better, her work is all one-of-a-kind! Lisa works with a variety of different materials: precious metals, copper, gemstones, glass beads, sometimes even Sari silk ribbon yarns!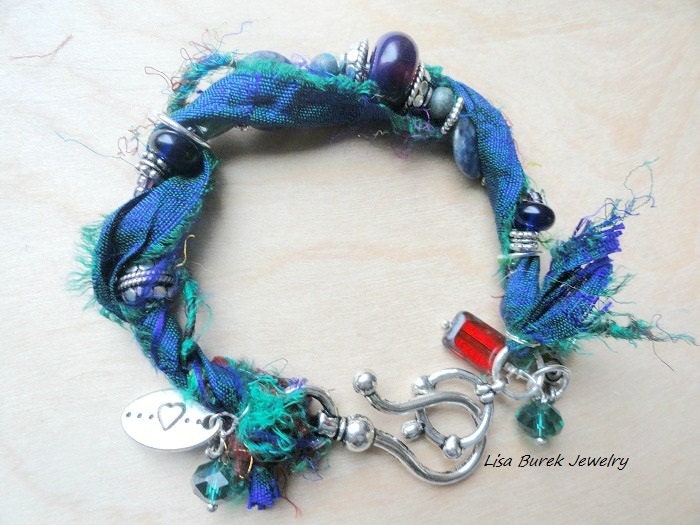 Lisa Burek is a member of the Artisan Group, as well as, a Self Representing Artist in Jewelry Design (SRAJD). Here are the links to where you can view more of her work:
I am so happy with how this piece has turned out! "Claramae" is multichain bracelet design. This one is made with copper, Quartz crystal, and freshwater pearl and features Half-Byzantine chainmaille segments. It measures at about 7.5 inches long when, when twisted, can be made as small as 6.5 inches.
Thanks to The Artisan Group, the original "Claramae" multichain bracelet shown above is being gifted to the stylist of "Cedar Cove" on the Hallmark Channel to be considered for use on the show!
I will be adding this design to my website soon and will be offering it in both copper and sterling silver, as well as, in different stones.
Will let you know if it gets selected to be used on the show!!
I don't know about you, but I love Steampunk jewellery. It's so imaginative and fun. And the jewellery by Steelhip Design is no exception.
The artist behind Steelhip Design is Michelle Murray from Perth, Australia. Why did she choose the name "Steelhip Design"? At a very young age, Michelle was diagnosed with Psoriatic Arthritis and has since had both hips and knees replaced and her right wrist completely fused. But, while it would have been easy to let all this depress her, Michille has not let her physical struggles define her or hold her back. Instead, she feels it has helped to make her a better artist and person. And, wow, what an artist!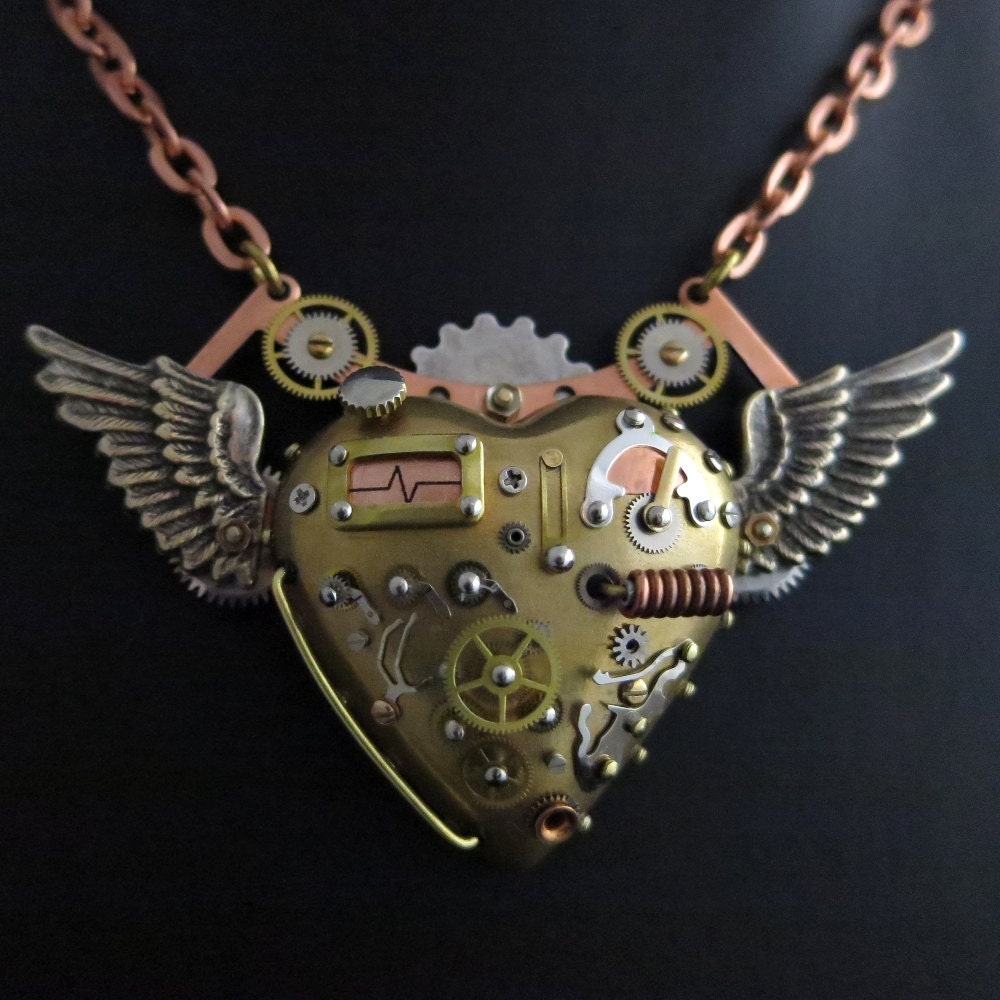 Steelhip Design creates some of the most unique pieces of Steampunk jewellery you are likely to ever find! Her pieces are art assemblage jewellery made with a wide range of materials. From copper, brass, and steel to rubber, wood, strange mechanical parts, clock/watch parts, and many other unusual materials you wouldn't typically think of for jewellery. Yet she always makes it all come together beautifully. While she has always had a love for creativity, Michelle only recently began selling her work. She opened her shop on Etsy in 2011. On average, she creates 15-20 pieces of jewelry and 2-3 sculptures a month and dedicated to making sure that all her pieces are of the highest quality. Her signature design is the flying mechanical heart shown above.
If you'd like to see more from Steelhip Design, here's where you can find her!