Thistledown Botanicals is a small, at-home business on the northern fringe of Lower Michigan's civilization (also known as Standish, Michigan). Now, I must admit that I have more than a little bias towards Thistledown Botanicals, as the owner of the business happens to be my mother, Holly Hepworth. She makes 100% natural skin care products and cosmetics. Right now, her products range from lip glosses and balms to lotions/lotion bars, sugar scrubs, and body butters; she has even made her own organic sunscreen. However, she is always looking to expand and learn new things. Most recently, she has been bitten by the soap bug…… and badly, there is soap curing EVERYWHERE in the house. She uses a variety of essential oils, fragrance oils, flavoring oils, mica colourants, etc. to make her work not just functional, but smelling and looking beautiful! Some of her soaps are even topped with flowers she dried in her dehydrator.
She is still new to the world of handmade/homemade businesses, and so does not have a website at this time. However, she does have a Facebook page you can visit which is set-up so you can purchase through it via PayPal. Keep checking back to see new products!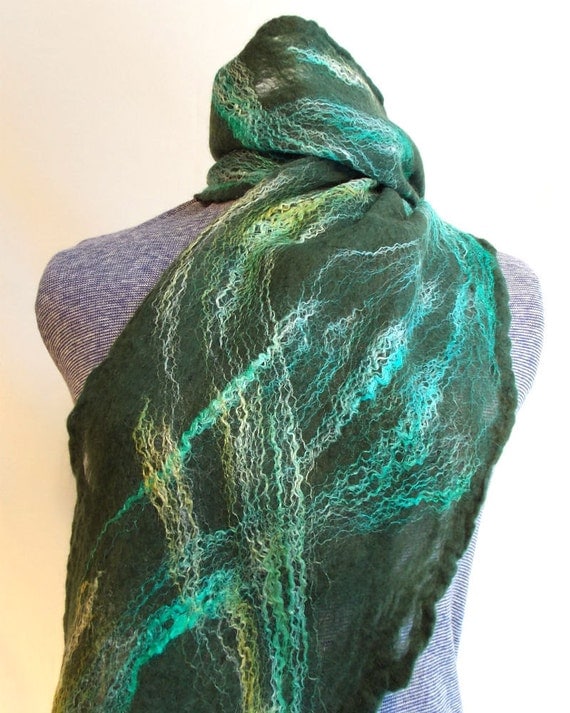 Kentucky Blue Fiber is owned by fiber artist Annette Browning. Annette began her business shortly after purchasing some alpacas and finding that breeding/selling them was just not for her. They had become her friends, and she just could not not sell her friends. But, since, in her own words, she came from "a long line of knitters and crocheters," her original business venture would not be in vain as she instead took the jump to become a fiber artist.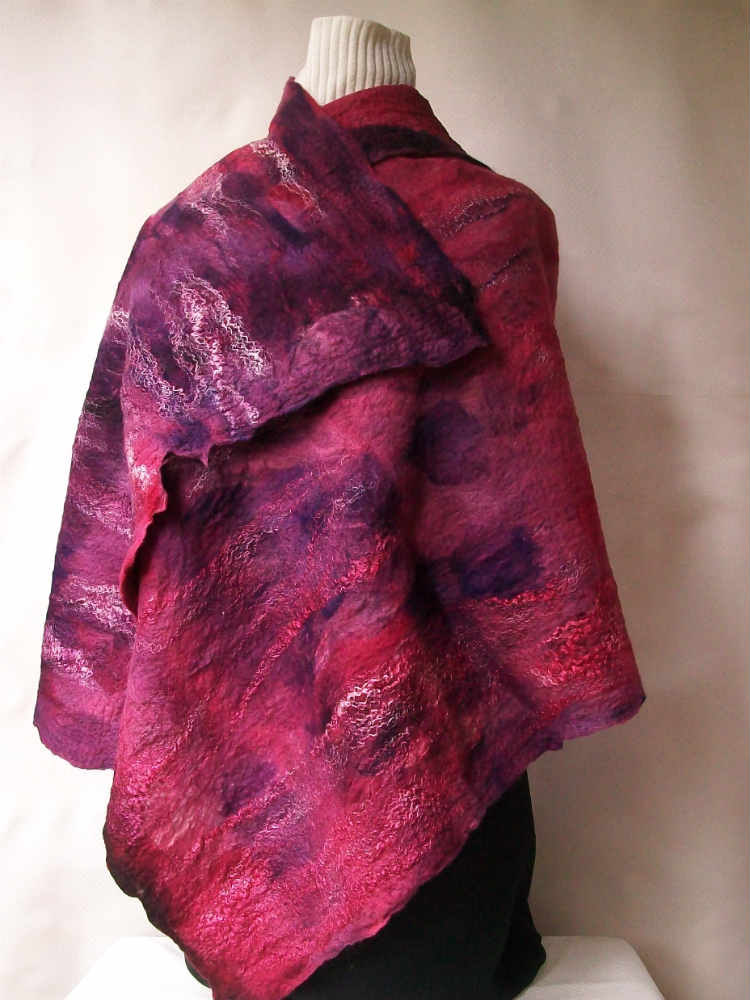 Annette shawls, scarves, and wraps are truly beautiful and it is clear that a lot of time (and love!) have gone into them! Not only does she do all the knitting, crocheting, and felting, but remember those alpacas she bought? That's right, Kentucky Blue Fiber also spins and dyes their own yarn.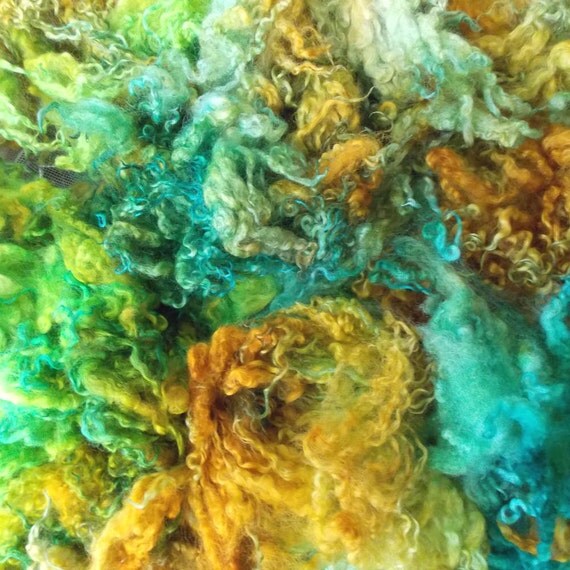 Kentucky Blue Fiber offers more than just handmade creations using their handmade yarn, but they also offer for sale the yarn itself so that other fiber artists/crafters can enjoy it. In addition to the already made up yarn, the raw materials are also available for purchase. You can find both dyed and natural wool locks just waiting to be spun into beautiful yarn.
You can visit Kentucky Blue Fiber at the following links!:
Alright all you want-to-be Vikings, Rennies, SCA, and historical reenactors, here's an artist feature that should be right up your alley! The (gorgeous) leatherwork of The Happy Viking.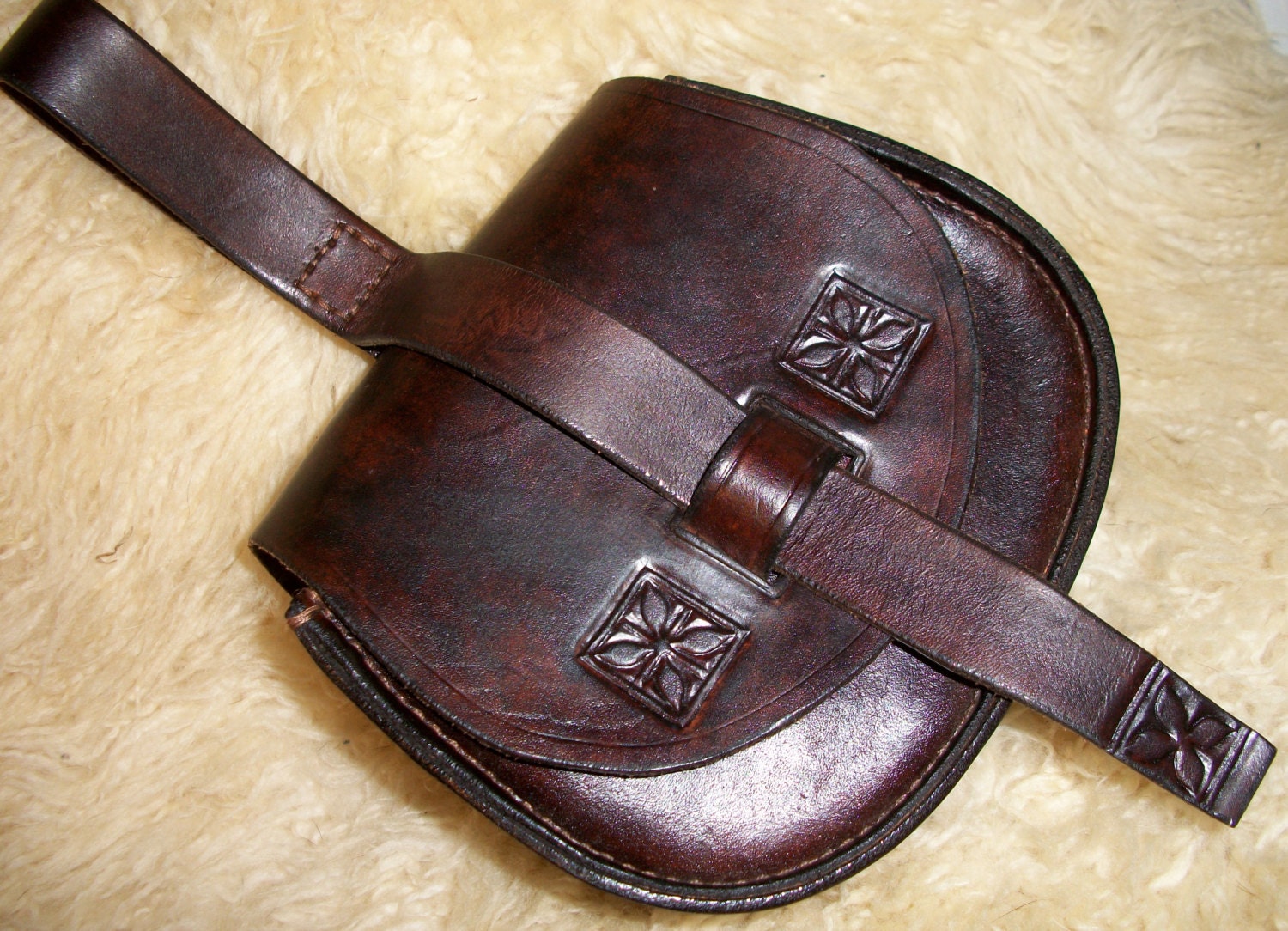 The Happy Viking is based in Maleny, Australia and is owned by leather artist and Medieval enthusiast, Elizabeth Sek. Maleny has accomplished what many artisans would love to achieve: not a hobby or job, but a way of life. Her leatherwork business is fueled by her creativity and a passion for the Medieval Age. She is so passionate for what she does that it does not feel like 'work' (a fear that many have when first starting out: that if they make a 'business' of their art/craft that they will lose the joy they get from it) but instead makes her feel alive.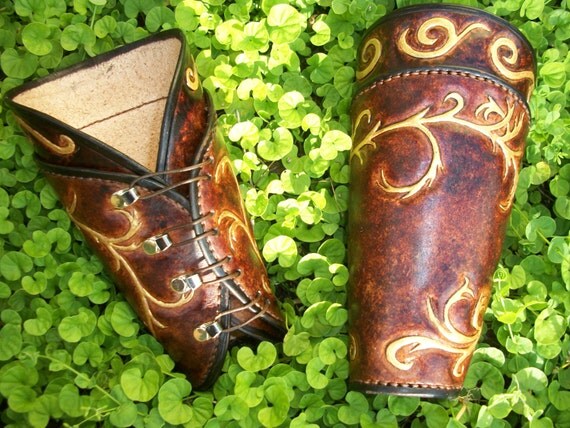 The Happy Viking offers an array of work. There are many different styles of scrips, instrument straps, belts, leather pendants, drinking horns, and a whole lot more. While the primary inspiration behind The Happy Viking is the Viking, Celtic, and Medieval Age, Elizabeth Sek has not limited herself to just these periods. She also welcomes custom orders so if you don't find just want you're looking for, she'd be happy to create it for you!
Here's where you can find her!
I don't usually do an art feature on Friday, but as it's Valentine's Day, I wanted to do something special for it. So allow me to present to you a small selection of the Valentine's Day delights that you can find in the world of handmade.
This is a beautiful, hand-bound journal by The Nib and Quill and is a one-of-a-kind piece. It has been bound in the coptic fashion with 11 chapters (also called "signatures"). Each of those chapters is wrapped with beautiful papers to make the piece all the more beautiful. The book also contains a small envelope inside the front cover to hide a special message! In all, it has 176 pages and measures at 4×4.
If you like this book, you should see the rest of them! You can find The Nib and Quill at the following links:
Cute, fun, and colourful, these scale chainmaille hair barrettes are handwoven by Alyce n Maille are sure to be noticed! Because they are made from anodized aluminum scales and bright aluminum rings, they are light weight so you won't have to worry about whether they'd be too heavy to wear! From the end-to-end they are about 3.5 inches long with the flower being about 2 inches wide.
Alyce n Maille also offers these hair barrettes in other colours! You can find these and much more at her various online locations:
Website
Etsy
Zibbet
Pinterest
Instagram
Facebook
Twitter
Google+
A beautiful white and floral (Georgette type) polyester silk scarf, this scarf was made by Mona Ankisetty of Tall Juniper. The pattern features red roses with just a hint of gold and silver sparkle. The scarf measures at 45×45 inches (105×105 centimeters).
Here's where you can find more work by Tall Juniper!:
If you love stretchy bracelets, then you will love this set by Sassy Belle Wares! This is a set of 5 bracelets, you could wear them on their own, but they make a beautiful statement when worn together. The bracelets are made from pinkish-red glass beads with one bracelet featuring a Czech glass heart. They measure at 7 inches, but will fit most any wrist size because of being stretch bracelets.
Here's where you can find Sassy Belle Wares!:
Etsy
Twitter
Facebook
Pinterest
A classy and very elegant piece from Daria Bukesova. This beautiful red rose pendant is handcrafted from polymer clay and just perfect for Valentine's Day! The pendant is about 3/4 of an inch in diameter and you can request either a 16in or 18 inch chain.
Want to see more by Daria Bukesova? You can find her here!:
Etsy
Facebook
Twitter
Pinterest
Love your pets? Here's a great Valentine's Day gift to them! This 13 to 16 inch dog collar by The Furry Fiesta (ShanB32Designs) is made from all recycled materials and is sooooo cute! (I can see this looking so great on any of those fluffy little white dogs!!)
Here's where you can find more great pieces by The Furry Fiesta (ShanB32Designs)!:
It's Wearable Wednesday! Please allow me to introduce you to the beautiful seaglass jewelry of MakinTheBestOfIt. The artist behind MakinTheBestOfIt is Kimberly Kitchen. MakinTheBestOfIt is based in Point Pleasant, New Jersey and is the counterpart to Chainmaille by MBOI which is headed up by her husband Andrew Kitchen.
She and her husband have a bit of a craft obsession.  Between the two of them there is: seaglass jewelry, chainmaille jewelry , glass painting,  mixed media/altered art, and a handmade support community that's growing into a bit of an empire! They currently run: Handmade Artists, It's Better Handmade, and Promote Handmade.
Every piece is carefully handmade with a lot of time and love poured into each piece. MakinTheBestOfIt creates stunning sterling silver and sea glass jewelry. All her pieces are one-of-a-kind. Not only is her jewelry entirely handmade, but she has also collected all the sea glass herself! In fact, she began making seaglass jewelry out of an addiction to seaglass collecting.  She had jars of the stuff all over the house and one day decided it was time to put them to use. And voilà! The seaglass jewelry line of MakinTheBestOfIt was born!
Be sure to check out her store as MakinTheBestOfIt does more than just jewelry!
MakinTheBestOfIt links: