Archive for the 'Transformed Treasure Tuesday' Category
I don't know about you, but I love Steampunk jewellery. It's so imaginative and fun. And the jewellery by Steelhip Design is no exception.
The artist behind Steelhip Design is Michelle Murray from Perth, Australia. Why did she choose the name "Steelhip Design"? At a very young age, Michelle was diagnosed with Psoriatic Arthritis and has since had both hips and knees replaced and her right wrist completely fused. But, while it would have been easy to let all this depress her, Michille has not let her physical struggles define her or hold her back. Instead, she feels it has helped to make her a better artist and person. And, wow, what an artist!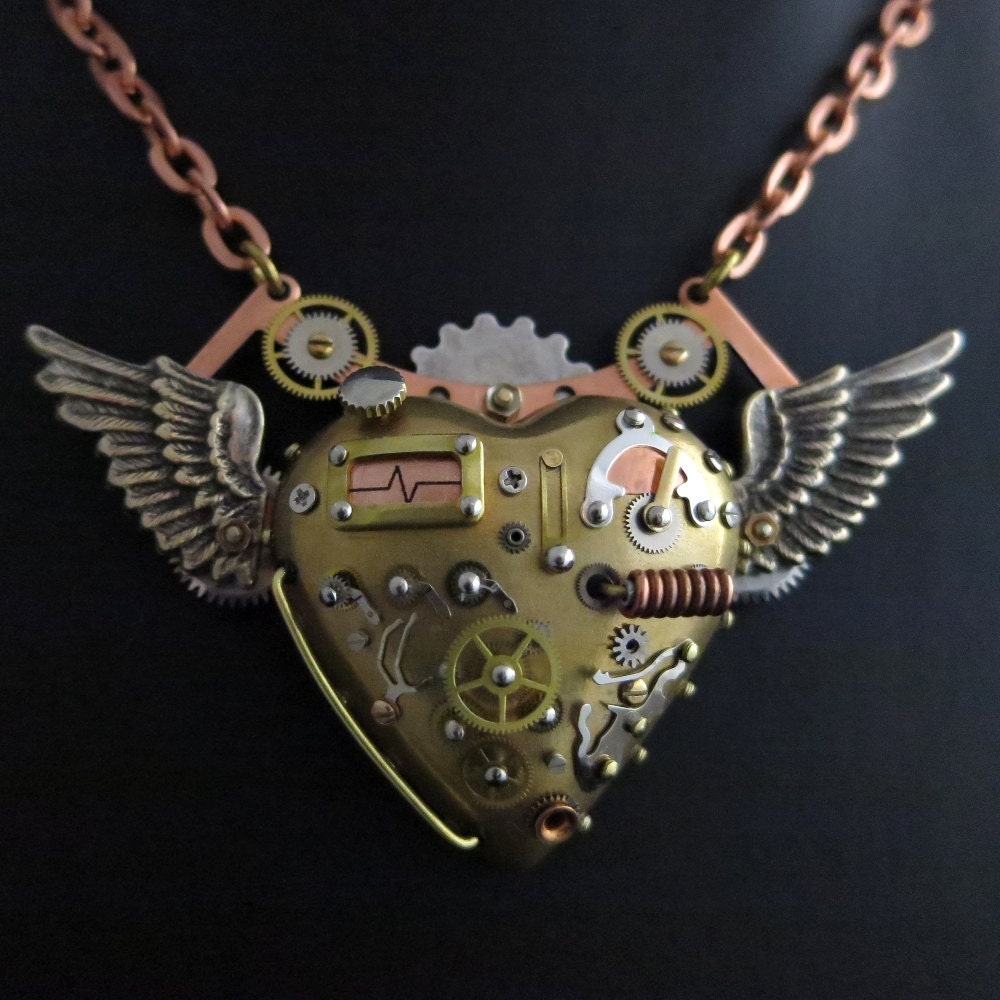 Steelhip Design creates some of the most unique pieces of Steampunk jewellery you are likely to ever find! Her pieces are art assemblage jewellery made with a wide range of materials. From copper, brass, and steel to rubber, wood, strange mechanical parts, clock/watch parts, and many other unusual materials you wouldn't typically think of for jewellery. Yet she always makes it all come together beautifully. While she has always had a love for creativity, Michelle only recently began selling her work. She opened her shop on Etsy in 2011. On average, she creates 15-20 pieces of jewelry and 2-3 sculptures a month and dedicated to making sure that all her pieces are of the highest quality. Her signature design is the flying mechanical heart shown above.
If you'd like to see more from Steelhip Design, here's where you can find her!
Love Steampunk but don't know where to start? I've compiled a short list of Steampunk resources that I hope will be helpful! As there are quite a number of Steampunk websites, blogs, and online communities that I could list among Steampunk resources, I, unfortunately, can't list them all, but here are some to get you started.
Tutorials:
Steampunk Instructables
Designer Daily: 15 useful Steampunk tutorials and resources (for digital art)
Examiner blog post: Roundup Steampunk Craft Tutorials
Webgraphics (for digital art)
The Steampunk Workshop
The Steampunk Lab
Books/Magazines:
The Steampunk Bible by Jeff VanderMeer
Steampunk Your Wardrobe by Calista Taylor
Steampunk Style Jewelry by Jean Campbell
Steampunk Emporium by Jema "Emilly Ladybird" Hewitt
The Art of Steampunk by Art Donovan
Steampunk Magazine by Margaret Killjoy and C. Allegra Hawksmoor
Where to get supplies:
Ebay
Etsy
Yard sales/garage sales/rummage sales
Flea markets
Antique stores
Thrift stores
Dumpster diving
Salvage yards
Craft supply stores
Hardware stores
Auctions
Other Steampunk resources:
Steampunk.com
The Steampunk Empire
In your search for Steampunk DIY, don't forget that Youtube and Pinterest are your friends! Now that you have some more ides of where to look, go have some fun and make some Steampunk!
If you've ever sold your work at shows you know just how important a good booth display is. It's what will first get potential customers attention and if you don't have a good booth display then they'll just walk on by and not give you a closer look. Your booth display needs to be professional, but that doesn't mean it can't also be creative.
The equipment for a traditional booth display can be very expensive, so why not think outside the box? Sometimes you can make the traditional display forms yourself for a much less than you'd spend to buy them. Like a lot of other jewelers, I use a lot of half-moon bracelet forms. However, with the help of my family, I made my half-moon bracelet forms (you can see them in use below). To do so, all you need is PVC pipe of the right diameter, cut it to the desired length, cute the pipe in half lengthwise, and cover with fabric. Tada! You have your own bracelet forms (and they stack nicely too, which is great for storing them!)!
Do you need to put something behind glass? Instead of paying a lot of money for those cold looking glass display cases, why not make or repurpose your own? There are so many different ways you can do this: reuse old glass cloches; repurpose candle lanterns, make a shadowbox display case from old picture frames, etc.
My current booth display is a marriage of traditional jewelry display forms and repurposed/upcycled displays. I've used old (and new) boxes, spindles from spinning wheels, glass cloches, candle lanterns, hide-a-books (these make great risers!), handmade half-moon forms, small brass telescopes, mini-diving helmets, shadow boxes…. I've even used old oil cans as display forms (actually, these are cute to display rings on)!
Upcycled displays are a lot of fun. They can look just as great as a traditional booth display (sometimes even better) and when mixed with a few traditional forms it creates a beautiful, artistic, and professional looking display.
Part of the fun with repurposed booth displays is in the hunt for obscure objects to reuse and then imagining how you can use them. I've seen muffin tins used to display pendants, cheese graters to display earrings, bicycle seats as necklace forms, and a myriad of other creative ideas. You can find great display items at flee markets, yard/garage sales, antique stores, thrift stores, estate sales, and even *cough* dumpster diving *cough*.
So turn on your imagination, look around, and see if there isn't someway that you can add some creative repurposing to your booth display!
Too see more ideas on how to add some repurpose/upcycle style to your booth display visit my "Creative Display" board on Pinterest!
Winterberry Cottage creates beautiful, upcycled artwork for your home that is truly unique. The artist behind Winterberry Cottage is Amy Lynn. Her artwork is full of whimsy, nostalgia, and is simply beautiful.
Her prints are beautifully imaginative and are all created on upcycled vintage papers. Sometimes, these papers may be atlas pages (as seen in the at the top of this post) while others are created on pages from old dictionaries. It's a beautiful blending of old and new, image and text.
You can find her work on both Handmade Artists, as well as, on Etsy. Here are her links!:
If you enjoy Steampunk and creating repurposed artwork, this is a book that you really should add to your reference library (it's certainly on my reference library wishlist!).  I've looked at a lot of books about Steampunk art and this is without a doubt my favorite.  It spans all kinds of artwork from the traditional arts of painting, drawing, sculpture, etc. to fashion (both everyday Steampunk and more theatrical), jewelry, and accessories, as well as, showing a Steampunk spin on home decor. There really doesn't seem to be any category of the visual arts left out. It's a great conceptual inspiration book when pondering the unusual reuse objects and bits-and-bobs that might otherwise just get tossed out. Just remember, as with any time when you get inspiration from another artist, be inspired by their work but do not copy!
I'd like to introduce you to the beautiful, handmade mosaics of Monika from Myeuropeantouch!
As I mentioned in the about page and the 'grand opening' blog announcement, Tuesday's theme posts are all about recycled, upcycled, and repurposed art. This Tuesday, I thought I'd blog about a friend of mine from the Handmade Artists' Forum who (among other things) repurposes bone china to create some gorgeous mosaics.
Monika creates all sorts of beautiful mosaics using pieces of stained glass, bone china (both vintage and new) that is all carefully hand-cut, and a myriad of other pleasing decorations. She's embellished pieces of furniture (as can be seen in the above image) giving them new beauty.
Myeuropeantouch has created beautifully mosaic-ed boxes, cake plates, tissue holders, and much more.
Here are the links for Myeuropeantouch. I highly recommend you drop by!